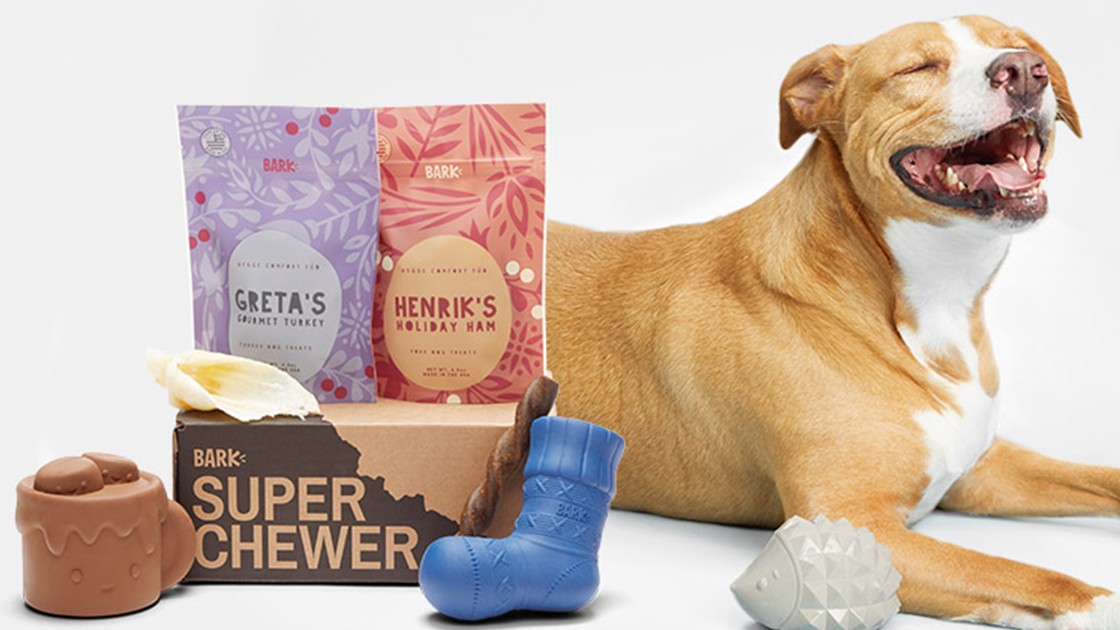 Super Chewer Box
Monthly toys, treats, and chews for your furry family members
---
Lose those boring hunks of rubber. Get your dog the monthly delivery of 2 tough toys, 2 full-size bags of treats, and 2 long-lasting chews. Super Chewer's in-house toy designers create an interactive adventure for you and your dog, with features like treat-lock systems, puzzle toys, and floating water toys. Plus, the treats and chews are all-natural from the USA or Canada because you shouldn't have to worry about finding healthy snacks for your dog.
Super Chewer is for active dogs of all sizes who demand a challenge.
Features
---
Each month's box comes with 2 tough toys, 2 meaty chews, and 2 full-sized bags of treats. Each month has a unique, surprise theme. Examples of past themes include "Shakespeare in the Dog Park", "Secrets of the Rainfurrest", "Knights of the Hound Table" and "Vikings of ValHowla".
Free shipping inside the contiguous 48 United States.
Super Chewer toys are made from tough materials, like natural rubber and nylon.
All of their toys are designed by their in-house team of industrial toy designers. They are not only durable, but interactive, with features such as treat-lock systems, floating water toys, and puzzle toys. All toys are always fluff-free. Super Chewer never sends any toys that their own dogs haven't approved. However, it is always very important to supervise your dog's play. If any toy is destroyed, they replace it for free. No proof needed. No time limits. No questions asked.
All treats and chews are all-natural and made in the USA or Canada. They never contain any wheat, soy, or corn.
Commitment
---
Member Bonus occurs within 2 weeks after placing subscription

12 month plans are $29/month, 6 month plans are $34/month, and 1 month plans are $39/month. All plans are billed monthly.

Your first box ships right away. Subsequent orders are shipped on the 15th of each month.
---
More offers from Subscription Box for Your Furry Family Members
No more offers from Subscription Box for Your Furry Family Members